Well, Edmontonians, I'm outta here.
Until next Tuesday anyhow. Tomorrow afternoon the kids and I hop on a plane for Vancouver and we leave behind my poor abandoned husband. My brother is going to marry this stunning lady: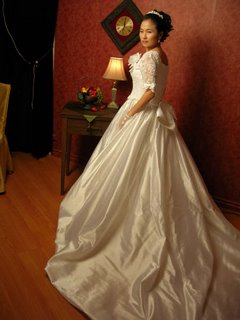 Here's a couple more shots of them. They did their wedding pictures in advance and these are some photos their friend snapped while the professional was doing his thing. The first one is them wearing their formal attire and the second is in traditional Korean clothing. I believe they're doing the ceremony in the Western garb and the reception in the Korean.